In late 2016, the museum received a surprising telephone call. Mr. Hal Struck and Ms. Sharon Sullivan, brother and sister from California, had discovered a very special connection to the museum through extensive research on their family tree. Samuel Miller and Sabra Clark, who built a farmhouse in 1740 which is now the Miller-Cory House Museum, were their 6th great grandparents!
Mr. Struck and Ms. Sullivan visited their ancestral home in 2017; their bond with the museum resulted in very generous donations from the Harold Struck Charitable Fund, which has supported a major project, the renovation of the colonial kitchen garden. The new garden  has the authentic look of the 18th century, and will enhance the museum's educational programs.  In a lovely ceremony on June 15, it was officially dedicated.  The event provided a special thank you to Mr. Struck, Ms. Sullivan and all of the volunteers of the Miller-Cory House Museum entrusted with its care and preservation.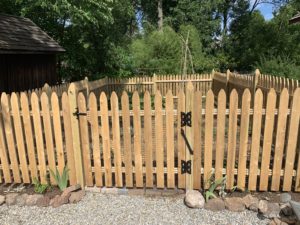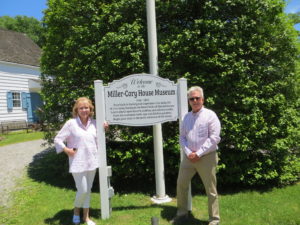 The museum is now closed for the season and will reopen in mid-September.    Please check our website in August for the new Autumn 2019 schedule.  We thank all of our guests over the past season and hope to see you again!
Miller-Cory House Museum
614 Mountain Avenue
Westfield, NJ  07090
908-232-1776
millercorymuseum@gmail.com